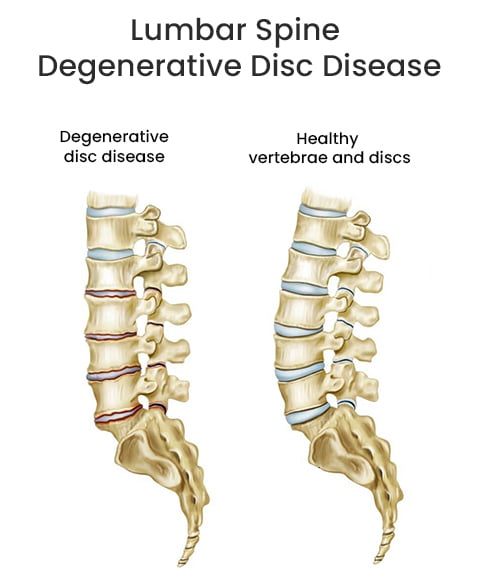 Lumbar degenerative disc disease occurs due to age-related wear and tear on a spinal disc in your lower back. This deteriorating condition causes low back pain or radiating pain from the damaged discs. A degenerated spinal disc, which normally cushions the bones around it, loses fluid, becomes inflexible, and is more prone to exterior tearing.
The location and critical role of the lumbar spine make lumbar degenerative disc disease treatment a priority when you're in pain. You use your lower back for body support, flexibility, and mobility. If any of the lumbar spine discs suffer damage, they stop you from participating in your life's activities, even while suffering from persistent lower back pain.
Millions of people suffer from lower back pain, which is also a major cause of disability. If you have nagging lower back pain, get a diagnosis for degenerative disc disease so you can begin the proper treatment as soon as possible. Dr. Amr Hosny and the spine doctors at the Spine & Rehab Group in New York City and northern New Jersey offer expert guidance and solutions.
What Are the Symptoms of Lumbar Spine Degenerative Disc Disease?
Pain associated with lumbar degenerative disc disease starts out mild, but it worsens with time. It can last for a few days at a time, forcing you to take it easy. Common symptoms that point to lumbar degenerative disc disease include:
Moderate pain in your lower back, which can radiate into your legs, buttocks, groin, and upper thighs
Occasional pain flare-ups
Soreness and tenderness in your spine around the degenerated disc
Pain that worsens when sitting, due to the pressure on the damaged disc
Pain that eases when you're walking or changing positions
Tingling and numbness in your arm or fingers
Muscle weakness or loss of strength that comes with extended nerve damage
If you notice any of these symptoms accompanying your lower back discomfort, talk to a spine specialist at the Spine & Rehab Group. They have eight convenient locations in Midtown Manhattan, the Financial District, and Greenwich Village, as well as in Riverdale, Paramus, Englewood Cliffs, East Brunswick, and Cranford, New Jersey.