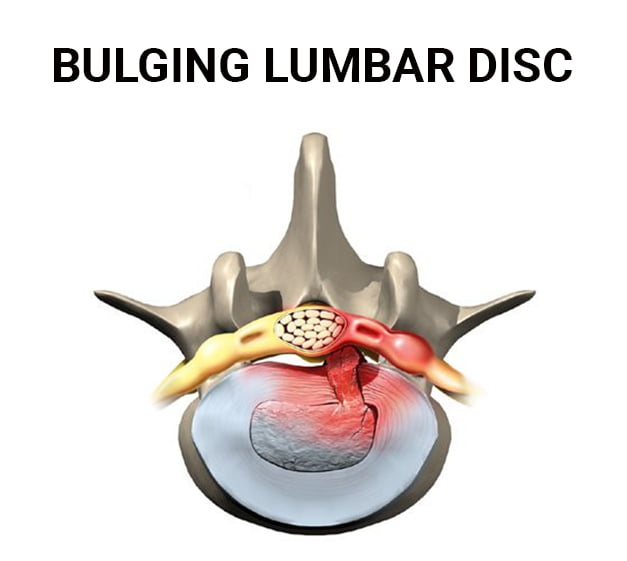 You can't always tell if you have a bulging disc in your lower back or some other condition that's causing your persistent lower back pain. Spine specialists at the Spine & Rehab Group in New York City and northern New Jersey are experts in treating all kinds of lower back pain, which is the leading cause of lost productivity in the United States. Lumbar disc bulge treatment is their specialty, so you're assured of a correct diagnosis and treatment designed specifically for you. With so many interventional approaches to treatment for a bulging lumbar disc, spine specialists always prefer to first recommend non-invasive treatments and lifestyle changes. Call today for your consultation.
What Is a Lumbar Bulging Disc?
The intervertebral discs in your lumbar spine support the flexibility of your body. With age, these spinal discs lose fluid, which can lead to a breakdown of the tough outer ring of the disc, called the annulus fibrosus. When this happens, the soft gel-like interior of the disc, the nucleus pulposus, bulges out.
Your body relies on the flexibility of the lower spine to make many movements possible. This section of the spine also bears your body's weight. Your lumbar spine offers stability when you're moving and sitting. A bulging disc may press on spinal nerves, which is where the pain and mobility issues stem from.
Because you need so much flexibility from your body for daily activities, any problem with the lumbar spine requires immediate attention from a spine specialist. Dr. Amr Hosny and his team of spine doctors at the Spine & Rehab Group in New York City and northern New Jersey leverage the latest diagnostic and treatment technology to restore function to your lower back.
Am I Suffering from a Bulging Lumbar Disc?
Learning the symptoms of a bulged disc in your lower back helps you recognize the signs early so you can seek diagnosis and treatment. The earlier you begin treatment for a bulging lumbar disc, the better your odds of a full recovery. Common bulging disc symptoms include:
Lower back pain while sitting
Pain in your feet, thighs, lower spine, and buttocks
Radiating pain in your leg, a condition called sciatica
Back pain, aggravated by specific activities, such as bending forward or down, lifting heavy objects, coughing and sneezing
Pain and flexibility problems while walking
Bladder incontinence comes from a bulging disc that compresses the nerves controlling your bladder
These symptoms are common with other conditions affecting the lower back as well, which is why you need the expertise of a spine doctor. Other lower back conditions that share many of the same symptoms include:
Our Board certified

doctors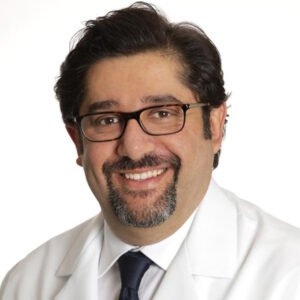 Amr Hosny, MD, MBA, FASA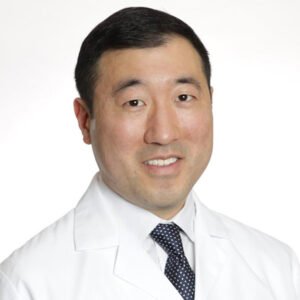 David Chu, MD, FAAPMR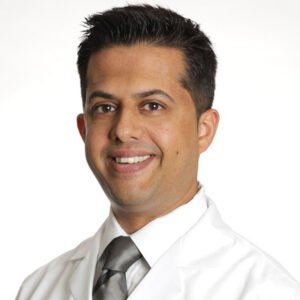 Vivek Mehta, MD, FAAPMR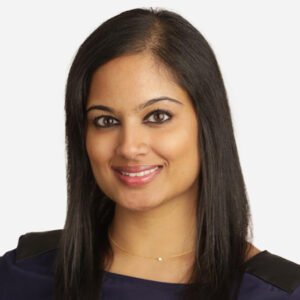 Deepali Gupta, MD, DABA, DABPM
What Causes a Lumbar Bulging Disc?
A bulging lumbar disc may develop gradually with age or happen suddenly, in case of trauma. Your spine doctor assesses the cause of the bulged disc to create a personalized treatment plan that addresses the cause. The lumbar spine bulges outward from its position for several reasons, such as:
Age-related degeneration
Weakened back muscles
Repetitive motion injuries
Strenuous lifting
Twisting your body regularly
A back injury
The doctors at the Spine & Rehab Group examine you to determine the underlying cause. The state-of-the-art facilities have the latest equipment for fast and correct diagnosis of spine conditions and disorders. Imaging tests such as an MRI, X-ray, or CT scan help your doctor confirm the diagnosis.
Who's at Risk of a Bulging Lumbar Disc?
While this spine condition mostly affects the aging population, some factors make everyone vulnerable. The risk factors for a lumbar spinal disc include:
Bad posture
Obesity
Participation in high-contact sports
Activities that place stress and strain on the spine
Strenuous training exercises
During your consultation, your spine doctor will explain these risks to you and strategies for reducing them. After this, you can discuss with the physician the best treatment for bulging discs in your case.
patient

TESTIMONIALS
★★★★★
I have been experiencing pain from a bulging disc in my spine for many years, which was affecting my ability to work. Every visit to The Spine & Rehab Group was a pleasant experience. The care I received was highly professional, the team was very accommodating of the visit I was requiring, and all the staff addressed me with individual care. Dr Hosny and his team have been working with me and doing an excellent job. After five months with Dr Hosny, I see positive results and feel more energized. I would recommend The Spine & Rehab Group and Dr. Hosny to all my family and friends.
Avery Waters
★★★★★
I've been seeing Josephine for a recurring back issue (bulging disc). She identifies exactly where the issue is occurring and provides branch block treatment that keeps me pain free and on the go for 6-12 months at a time. Great bedside manner, service, and no wait time. I previously tried a chiropractor which provided no relief at all.
anthony citera
★★★★★
Latest treatments
★★★★★
Non-Invasive approach
★★★★★
Same-day appointments
★★★★★
Convenient Locations
★★★★★
State-of-the-art facility
How Is a Bulging Lumbar Spinal Disc Treated?
After coming to a firm diagnosis, your spine doctor determines how to treat a bulging disc in the lumbar spine, relying on an interventional approach. The bulging lumbar disc treatment option that's best for you depends on the imaging test results and the severity of your bulging disc. Your doctor takes your lifestyle into consideration too. Treatment for bulging lumbar disc may include:
Physical therapy to strengthen muscles in your back
Pain management medication, depending on the severity of your pain
Muscle relaxants
A healthy weight-reduction plan
Conservative pain management options, such as ice packs, heating pads, and massage therapy
Lumbar epidural steroid injections to relieve your pain and reduce the inflammation
Minimally invasive surgical treatments
If you're among the millions of people suffering from a life-altering lumbar bulging, consult the spinal doctors at the Spine & Rehab Group for treatment. They're available in New York City in the Financial District, Greenwich Village, and Midtown Manhattan. In New Jersey, contact the spine specialists in Bergen County, Morris County, and Union County, including Paramus, Riverdale, Englewood Cliffs, Cranford, and East Brunswick.
Read more: Can Peripheral Neuropathy Be Caused by a Bulging Disc?
Is Bike Riding Good for Bulging Disc?