Recover Your Quality of Life Today 
What Is Sciatica?
Sciatica, also known as lumbar radiculopathy, is characterized by a pain that radiates along the path of the sciatic nerve. The sciatic nerve is the largest nerve in the body; it branches from the lower back or lumbar spine, then down the hip, buttock, and leg. When the nerve root is "pinched", it can cause pain, inflammation, and numbness in the affected leg. Patients are likely to feel some type of discomfort anywhere along the nerve's pathway, although sciatica typically only affects one side of the body.
Contrary to what most people think, sciatica is not a condition. Rather, it's a symptom with an underlying cause. Common causes of sciatica include:
Herniated disc
Arthritis
Back injury
Spinal bone spurs
Spinal stenosis, or narrowing of the spinal canal
Degenerative disc disease
These injuries and diseases are triggered by the compression and irritation of the nerve. Patients describe nerve pain to be either a mild ache or excruciating pain. When the affected area is particularly inflamed, sciatica may feel like a jolt, an electric shock, or a sharp, burning sensation which is aggravated when sitting or standing for a long period of time. And although most cases of sciatica heal with non-operative treatments after a few weeks, severe sciatica may require surgery.
The Spine & Rehab Group: Permanent Sciatica Relief
The goal of our medical team at The Spine & Rehab Group is to help patients feel better so they can return to an active, healthy lifestyle. Through the efforts of our multidisciplinary professionals and specialists, we can treat debilitating conditions such as neck pain, back pain, sciatica, shoulder issues, joint pain, fractures, and sports injuries without resorting to orthopedic surgery.
We're proud to have the top-rated doctors, podiatrists, orthopedists, and physical therapists in accessible locations around Manhattan and north New Jersey. Our expert team will work with you to find the right treatment options and provide you the best care possible. Schedule an appointment with us today.
Board Certified Physicians
Harvard Trained Doctors
Award-Winning NYC and NJ Doctors
Over 15 Years of Experience
Experience With Over 15,000 Procedures
Effective Treatment Plans
Non-Surgical Approach
Immediate Appointments
Convenient Location
Early Morning and Evening Hours
Our Board certified

doctors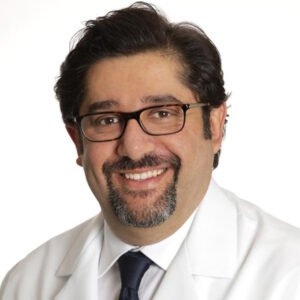 Amr Hosny, MD, MBA, FASA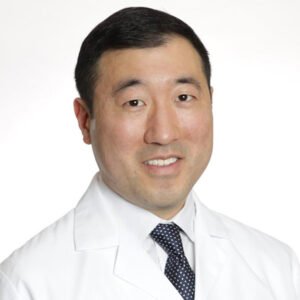 David Chu, MD, FAAPMR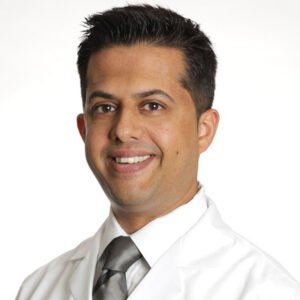 Vivek Mehta, MD, FAAPMR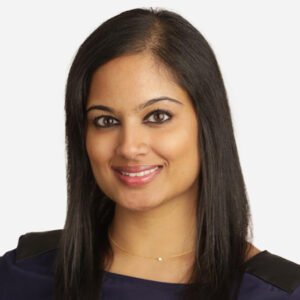 Deepali Gupta, MD, DABA, DABPM
Misbeliefs About Sciatica
You're likely to encounter a few faulty beliefs about sciatica when doing research on the internet or talking to other patients. To be better informed about this medical problem, let's debunk a few of those myths:
Myth #1: You should skip exercise and stay in bed if you have sciatica.
Fact: Tempting as it might be to stay away from physical activity, patients who suffer from sciatica should actually remain active and avoid excessive rest. Lying down for a long period of time can weaken your back muscles and exacerbate sciatic pain so it's important to perform light exercises and stretches frequently.
Myth #2: Treating sciatica requires surgery.
Fact: Most sciatica cases resolve in 6 weeks with rest and conservative medicine; surgery is considered the last option for when other pain management treatments fail. Muscle relaxants, pain medicine, and epidural injections can promote faster healing. An orthopaedic surgeon will only be called when there is unbearable numbness, weakness, or pain.
Myth #3: Sciatica has no long-term effects.
Fact: Although it's rare, permanent nerve damage is actually a possibility for patients with sciatica. This is why people who experience incontinence or loss of sensation in the legs should seek emergency care immediately, as it may be a sign of a more serious problem.
Garfield's Top Sciatica Physician: Dr. Amr Hosny
The Spine & Rehab Group is headed by Dr. Amr Hosny, a board-certified and Harvard trained interventional spine specialist. As a veteran healthcare provider, Dr. Hosny knows how to balance patient needs and goals — without needing to perform orthopedic surgery. And for over 15 years, Dr. Hosny has been committed to working with patients who suffer from spinal pain and related conditions.
Dr. Hosny received extensive training and experience at St. Luke's Roosevelt Hospital Center, Columbia University NYC, and Harvard Medical School. Through his background on integrative medicine, Dr. Hosny and his team work with individual patients in order to develop and implement a comprehensive, personalized recovery plan for all patients. Since opening their practice, Dr. Hosny and The Spine & Rehab Group team have performed over 20,000 safe and effective procedures for all types of musculoskeletal conditions and injuries.
How We Treat Sciatica
The Spine & Rehab Group is home to the leading sciatica doctors in New Jersey and New York. We emphasize treating sciatica with a non-surgical approach, through a combination of treatments including:
Physical therapy: Our team of back pain specialists, interventional specialists, and physical therapists will customize a treatment plan so you can strengthen your body. It is crucial for conditioning the body against muscle spasms, recovering from pain caused by a sciatic episode, and preventing symptoms from worsening. These therapies often include manual massages, heat therapy, and electrical stimulation techniques. We may also recommend chiropractic care under a licensed chiropractor in conjunction to therapy and rehabilitation.
Epidural steroid injections: Steroid injections can reduce inflammation and promote pain relief, which allows patients to continue with physical therapy and rehabilitation. Epidural injections can also briefly improve quality of life for patients.
Anti-inflammatory medication: Anti-inflammatory medication or NSAIDS are offered as a treatment option to decrease swelling.
Acupuncture: Acupuncture is a form of traditional Chinese medicine, wherein the nerves will be stimulated with hair-thin needles. Our certified acupuncturists can help patients alleviate sciatica and back pain.
patient

TESTIMONIALS
★★★★★
I came to the spine and rehab group for my back and leg pain. I was able to get an appointment the same day I called. The staff was very friendly and courteous. The doctors were very knowledgeable and took time to explain what was causing my pain and answer all my questions. I felt comfortable having my procedure done in their state of the art surgery center, where the staff made you feel at ease. They are very easy to reach and available to answer all your questions.
Narendra G.
★★★★★
The entire staff at The Spine & Rehab group is great. They are so helpful and kind. The doctors really take time to talk to their patients and answer any and all of the questions that I had. I've had office visits and procedures done and everyone to the front desk, to the nurses. and the doctors were just great and knowledgeable. They really got me feeling better as well. Since I starting going there my pain has improved greatly! I would recommend The Spine & Rehab Group to everyone!
Carmen C.
★★★★★
The Spine & Rehab Group is my go to place for chronic pain. The doctors are compassionate and supportive. The nurses and staff are professional and so caring. I have been a patient here for almost 10 years . The doctors and physician assistant are extremely knowledgeable and always looking for the best way to help with my chronic pain! I always recommend The Spine & Rehab Group to people dealing with pain, I even tell my other doctors what wonderful doctors they are.
Val B.
★★★★★
These days it's hard to find a professional, yet extremely caring physicians office, particularly in the field of Pain Management. Dr. Hosny, Dr. Chu, physician's assistant Summer and the entire staff have managed to make this happen. Robin helped me many times with insurance to ensure that I got my shots in a timely manner (Hi Robin!). I've been going to this office for about three years and I couldn't be more pleased!
Anne
★★★★★
I went to Dr. Hosny with lower back pain. I spend many hours sitting in a truck for my job. After an hour or so I would get pain in my back. Since I am a truck driver, pain killers were not an option for me. After a few sessions with Dr. Hosny, I am pain free. The staff at New Jersey Pain Care Center and are wonderful and caring people. I would recommend anyone go to Dr. Hosny if they want real results.
Jeff
★★★★★
I had gone to Dr. Hosny with severe back pain after spinal surgery. It was debilitating pain that stopped me from being able to function normally. Dr. Hosny suggested that I have a Spinal Cord Stimulator implanted in my back. It is the best thing I EVER did. I am so excited to be able to return to my normal life with no medication. My experience at the pain center was wonderful. The nurses were very understanding and kind.
Glen
★★★★★
I have had back surgeries that provided me no relief from my pain. After a few treatments with Dr. Hosny, I have almost no discomfort. I have no need for my pain medication anymore, and have been able to go back to working out and enjoying activities with my family. I was pleasantly surprised at the treatment I received at New Jersey Pain Care Center. The staff is very nice, and treats you with respect. The facility is clean, bright and everything is brand new.
Jen
★★★★★
I had been having pain in my neck for many years. I had been to other doctors and they all recommended that I have surgery. I was hesitant to get surgery, so I wanted one more opinion. I had a friend tell me about Dr. Hosny and New Jersey Pain Care Center. From the moment I met Dr. Hosny I knew he wasn't your average doctor. He took the time to listen to my concerns about surgery, and he agreed. After my cervical radiofrequency, I have full range of motion back in my neck, and best of all, no pain.
Sharon
★★★★★
Latest treatments
★★★★★
Non-Invasive approach
★★★★★
Same-day appointments
★★★★★
Convenient Locations
★★★★★
State-of-the-art facility
FAQs on Sciatica
Q: When should I go to the hospital for sciatica?
A: Mild sciatica goes away over time. However, if your pain lasts longer than a week or grows progressively worse, it's best to call a specialist. You should also get immediate medical advice at a hospital if:
The pain follows a violent injury, like a traffic accident.
Your sciatica symptoms have grown severe and debilitating.
You're experiencing trouble controlling your bladder or bowels
You have a sudden, severe pain in the lower back.
Your muscles feel significantly numb and weak.
You have a persisting headache.
Q: What are the risk factors for sciatica?
A: While sciatica can affect anyone, people who are overweight or diabetic are more likely to develop it. This is because excess weight and long periods of inactivity may put more pressure on the afflicted nerve root. Over-activity, on the other hand, may also lead to sciatica; athletes who run may get sciatica due to repetitive movements of the hip. Middle-aged adults also grow to be more susceptible to this problem as the structures in the back naturally degenerate over time.
Q: Can sciatica be prevented?
A: Not all sciatica cases can be prevented, but keeping yourself active and using the correct form in activities like sitting, walking, and lifting can be effective in reducing recurrence of lower back pain. Improving strength in the muscles of your back and abdomen, managing your weight, and maintaining a good posture can also be a form of pain management that prevents further deterioration from happening. You may also consider chiropractic alignment to ease spinal discomfort.
Where To Find A Sciatica Specialist in Garfield NJ: The Spine & Rehab Group
The Spine & Rehab Group has clinics in several locations around New Jersey and New York. If you're looking for experts on pain management, diagnostics, and rehabilitation for untreated musculoskeletal conditions near Garfield City, NJ, our offices in Paramus, Englewood Cliffs, Riverdale, and Cranford are just a short 15 – 25 minutes away. Under the expertise of our highly-trained, board-certified physicians and medical staff, you'll receive the best possible treatment so you can enjoy the various activities around Garfield City again.
Through our top-notch services, you can move with ease and have fun in diverse Garfield. Visit the parks and playgrounds in the city, have a meal at local restaurants, or shop at the malls close to Paramus. The Saddle River County Park and Garret Mountain Reservation are nearby sightseeing spots as well, so you can explore the vibrant outdoors and natural sceneries without discomfort holding you back.
Senior citizens and patients who have difficulty moving around on their own would definitely appreciate the ease and convenience of visiting the Spine & Rehab Group's one-stop shop for diagnosis and treatment. Our state-of-the-art techniques and technologies can help you recover from any chronic, acute, or sports-related aches, pains, injuries, and other spinal issues. Live without pain and regain your mobility. Contact NJ's leading pain treatment and rehabilitation providers today.